The team at Astra Electrical are proud to offer our customer good old-fashioned service with honesty and integrity.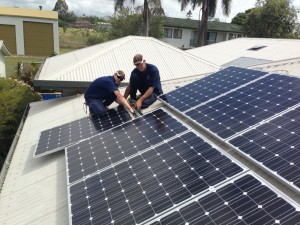 We have extensive experience installing solar panels and solar inverters over the last few years, leaving a lot of happy customers with cheaper electricity bills.
Australian electricity prices are amongst the highest in the world, and they still continue to rise.
Installing Solar can save you a lot of money on your electricity bills and you will be doing a good thing for the environment at the same time.
We offer a number of affordable solar systems with good quality Tier 1 Panels and good quality inverters.
Most importantly, we give our customers valuable support and information on which are the best solar systems.
The following is a list of the major components of a solar system:

Solar Panels
Solar Inverter (one or more dependant on the type of system)
Solar Racking (Engineer designed and certified)
DC & AC Isolators
Batteries (Dependant on the type of system)
The main thing to point out is that you will gain the greatest benefit from your investment by purchasing good quality equipment.
We also carry out fault finding and repairs on existing solar systems and also testing system performance.
We offer customers a solar panel cleaning service, which is recommended to be done yearly to ensure the system is generating to its full potential.
How do Solar panels generate power:

Solar power panels work on light and NOT heat like a solar hot water system. Solar panels become less efficient as they get hotter.
During the day the solar cells in the solar panel absorb light and convert it to DC electricity. This electricity is then goes to the Inverter that converts the electricity to 220-240V AC power which is then usable by your home or sent back to the grid.
The solar bonus scheme in Queensland is 'net metered' which means that any electricity being used at home during the day used from the solar power that is being generated. Any extra electricity or power that is not being used is then sent back down the power lines back to the grid. When you use more power than the solar panels are producing at the time, then you will take the extra electricity that is needed from the power supply grid.
This is a fully automated process and no battery storage is involved.
Provided you buy a good quality Tier 1 system such as those installed by Astra Electrical, then solar power is completely safe. Most systems have at least four isolators protecting your solar system. Poor quality equipment and components will fail over time and can cause fires.
Unfortunately with solar systems the minimum fire ratings were only introduced in 2013, which means there are a lot of solar systems out there without the sufficient safety ratings.
Inverters:

Choosing a good quality inverter that is critical for your project and is crucial for receiving the maximum return on your investment.
Inverters generally have much shorter life spans and warranties than solar panels, normally five to ten years as opposed to 20-25 years for panels, and they are usually the most expensive part of a system.
Having a good quality inverter is definitely worth it in the long term – we have seen many customers pick premium panels and a cheap quality inverter, which negatively affects the performance of the entire system.
Inverters are used for:
Converting DC power produced by your solar panels to AC power which is used in your home and also sent back to the grid if you are exporting it.
They ensure that the maximum amount of electricity is extracted from your solar panels.
They allow you to monitor your solar system via wifi or Bluetooth or simply on its display screen.
Quality Counts: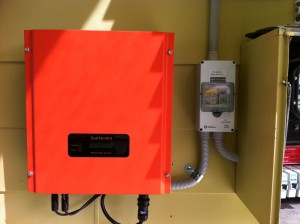 Finding good quality panels can be a difficult task.
Purchasing a good quality solar system can be a difficult task and finding good quality solar panels is even harder.
Surely one solar system is the same as another solar system of the same size system? All panels seem to have the same warranty. Unfortunately this is not quite right
Lots of companies use classic sales tactics, saying that their products are the ones setting the standards for their unmatched quality and performance. However when you hear this from multiple different companies, you start to wonder what is true.
People also try to throw the 'German Engineering' term around without it being a fact.