Electrical Insurance Work
Astra Electrical are fully licensed contractors who carry out all types of insurance work and provide electrical, air-conditioning and photo-voltaic (solar power) insurance claims reports.
Keeping our clients safe and getting them reconnected again, is of the highest priority during emergency events.
After the Tornado and Bundaberg flood, Astra Electrical assisted in helping to get lots of local businesses and private homes back up and running.  We made a lot of properties safe and restored power where it was safe to do so. We did this in very short and fast time frame which reduced the impact from the devastation, of the natural disaster.
Electrical Insurance Damage Reports
Each of our Electrician can help you with your electrical insurance claim report.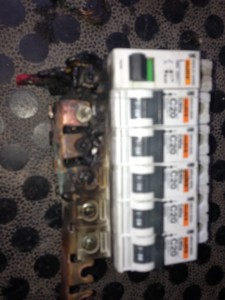 Some insurance companies cover electrical related damage to your equipment and appliances.
Some cover electrical damage caused by events such as storms.
Insurance companies generally require an electrician to provide an electrical insurance damage report.
Others require an electrician to complete part of the electrical insurance claims form for you.
You can also lodge an electrical claim to Ergon,  This is only possible if you have experienced damage that you believe was caused by an adverse event on the electricity network such as fallen power lines.
Astra Electrical can assist you with claiming for electrical damage.  We can assess the damage, the cause and extent of the damage and then we can provide a written report stating the cause of the damage and give a breakdown estimate of materials and work needed to be done as result of the electrical fault.
The success of electrical insurance claims mainly relies upon the type of insurance cover you have and the cause of the electrical damage.
Many insurance companies have a new for old replacement option.  For example through an electrical surge or other reason your electrical equipment no longer works, they may replace your pump, TV, fridge, computer or washing machine with a new electrical appliance.
Electrical Insurance Works and Electrical Insurance Reports
Astra Electrical does not take advantage of customers when they have had a loss or damage to their electrical appliances, their home or the electrical systems.
We undertake all electrical insurance work at our normal competitive hourly rate and also provide electrical insurance reports at a very reasonable price.
Contact Us at Astra Electrical
We have a team of fully qualified, friendly electricians who care about our customers.  We know that damage caused by natural disasters or electrical surges can be difficult and sometimes devastating to deal with, whether it be our business or your home.
We will look after you and ensure that your electrical insurance work is undertaken as quickly as possible.  We will also submit your electrical insurance reports in a timely manner so you can get your home or business up and running normally.
You can call us on 0438196869 and we will do our best to assist you in this type of situation.