For the best TV antenna installation, TV tuning, TV wall mounting, Extra TV points & home theatre installation service. Servicing Hervey Bay, Maryborough and surrounding areas, to book a technician to come to your home or premises call our friendly staff.
Antenna Installation

Our antenna installations work consist of years of experience and the use of the highest quality installation techniques and materials to ensure your TV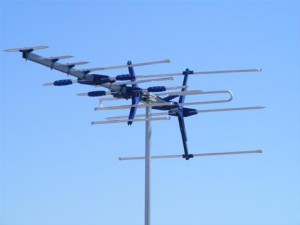 reception is going to be reliable and perfect.
Pixelation problems are not always fixed by replacing the antenna. Sometimes it may be a smaller issue in the antenna system. Our friendly technicians are here to help and that's why we provide you with an obligation free quote. So, call us today to book a quote or repair.
Antenna Installations are only as strong as their weakest part in the system.
Testing an antenna system to diagnose exactly where the signal is breaking down, requires the use of the correct testing gear and know how.
You wouldn't want to trust just any person or company, who does not do antenna installations and repairs to have the know how and equipment to perform this type of job .
All too often, Astra electrical are called upon to fix the mess or jobs that others have done.
Wall Mounting a TV
Mounting a TV on the wall is a very small part of the job. It's the finer details that make it look good.
It wouldn't look good with all the cables running on the surface of the wall.
We believe in quality of service when it comes to wall mounting a TV.
The wall bracket needs to be suitable for the size of TV that is being put on the wall.
Professional tuning  and the correct type of cables used, all makes the difference.
Concealed cables

Whether it's a Plasma, LED, LCD or smart TV we can wall mount it and conceal the cables.
Newer TV's are getting harder to install due to some of them having curved backs and thinner design.
With a lot of the newer TV's having fixed power cables it is proving to be a job best left to the professionals.
Astra Electrical will safely and securely wall mount your TV with the cables being concealed.
Free Standing TV's
Children love to climb and throw things around and they can be very unpredictable.
A TV on a stand that is left unanchored is a danger to young children and pets. Insurance statistics reveal that upto 35% of televisions in households with toddlers or small children topple over with upto 50% of those resulting in serious injury.
 Unsecured TV's are a safety hazard. Secure your TV on the wall today.
Home Theatre Installation
We do from the basic home theatre and surround sound system set-ups, to full media room and home theatre installations.
Every home theatre set-up & installation is different to some degree.
We professionally install and calibrate your system to keep enjoying your home theatre experience.
What we do:
Projector installation with motorised or fixed screens
Wall-mounting of Plasma, LED, LCD and Smart TV's
Home Theatre pre-wires  and fit-off.
Multi-room media set-up with free to air or pay TV.
Multi-room audio with zoning.
Surround Sound  5.1 – 7.2 channel installation.
In-ceiling speakers.
PROFESSIONAL TV TUNING
We all have trouble tuning the new television we have just bought. So, with all the buttons and features and other options, sometimes it is really worth  just pay someone to do the TV tuning correctly for you.
Not only will the digital TV tuning be done a lot quicker and safer, it's all the little touches and tricks of the trade that professional digital TV tuning technicians know that will make all the difference.
The benefits:

We come to you.
Channels on the right numbers.
TV tuning involves calibrating to getting the best picture your particular TV can display.
Setting up for the best audio.
Is your TV pixelating?     This isn't always the TV antenna, sometimes its just a matter of correctly tuning the TV.
Setting up the correct aspect ratio settings for your equipment
Optimal tuning and connection of all your other audio visual equipment besides your digital TV, only using the good quality cables and connections so you get the best picture and sound from your DVD player, HD video recorder or games console.
We can also Connect your computer to your TV.